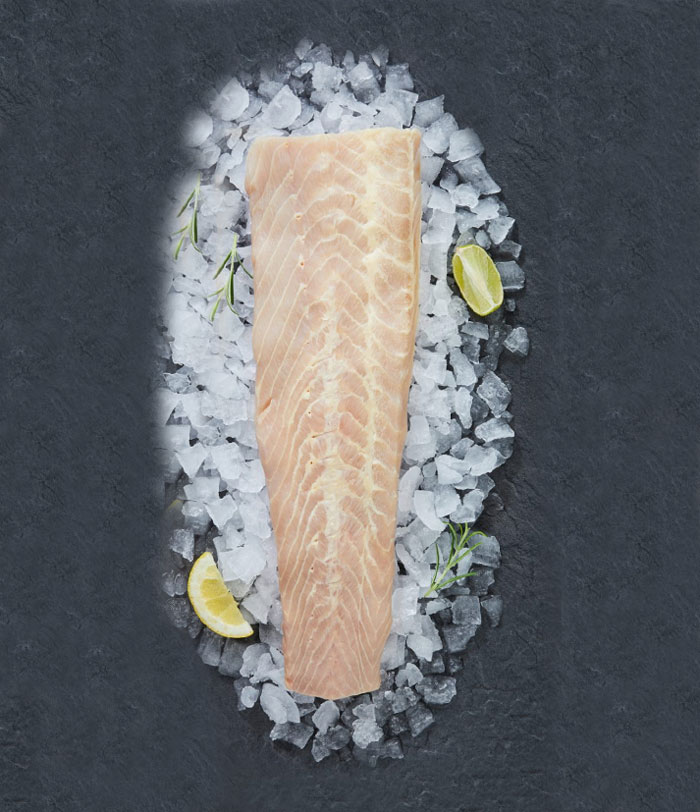 Sturgeon meat.
After Jurassic era, the sturgeon successfully adapted to changing environmental conditions. And sapiens could learn to breed fish in pond. This species fish (sturgeon fish) have been compatible for culturing. After this era sturgeon fish come to people diet.
Sturgeon fish is very delicious and Nutritious meat. People find a lot of necessary amino acids and fat contains DHA and EPA, which have good effects on blood pressure and improving intelligence quotient and preventing Alzheimer disease and anticancer.
The color of the meat is special. Depending on the species, it ranges from slightly yellow, gray and white.
Description
Sturgeons known as boneless fish only have cartilages.
Farmed sturgeon meat has mild and delicate flavor, firm and meaty texture.
Sturgeon Meat Features
Sturgeon meat is considered as high protein and medium fat content. Intramuscular layers of fat influence the taste of sturgeon fish favorably.
It goes without saying that the quality of food and water directly influence the firmness and taste of meat and caviar.
That's why Coppens and Aquafeed have been chosen by experts to feeding the fish in the Abzi Gostarane Saaee(Saaee Aquaculture) collection.
Sturgeon Meat Color:
The color feature is not related to low quality of meat, but a specific characteristic of sturgeon meat. Indeed, the color of meat depends on species. It ranges from slightly yellowish, grayish, milky white, white. To exemplify, Siberian meet is famous for the yellow color.
Moreover, light intensity, turbidity and depth of water are main factors affecting sturgeon skin color. The more turbidity and depth, and the less light give rise to brighter skin color.
Sturgeon Meat Supply and Marketing
Fresh/deep freeze gutted fish.
Options: boneless fillet, whole round (bulk).
Sturgeon meat handle hygienically and keep chilled from the time of capture or harvesting until consumption. Whole fish and fillets are held in a chill room at 0°C.
Sturgeon Meat Maintenance:
4 days in refrigerator and 3 month deep freeze.