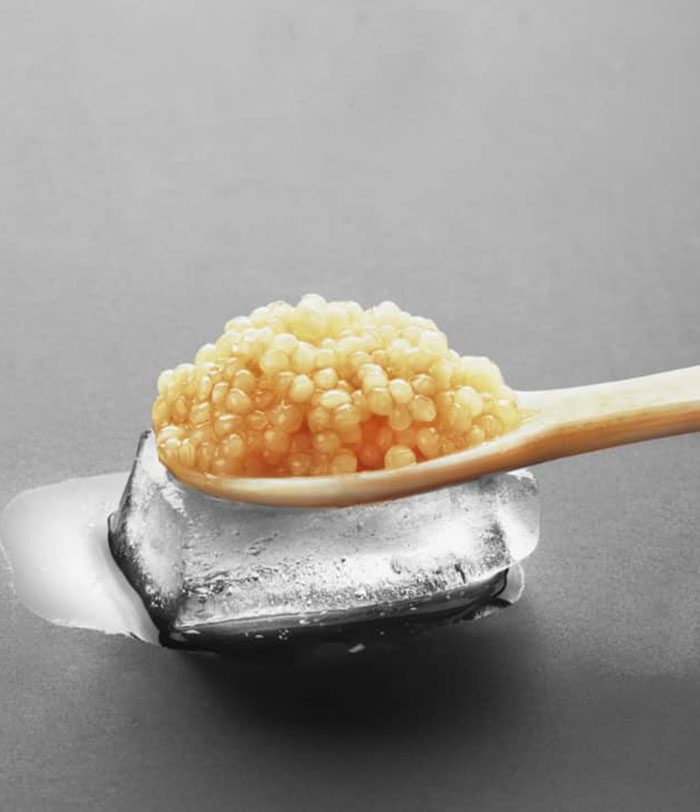 Almas Caviar.
Almas, pseudonym of the most expensive caviar extracted from a very rare female albino Beluga sturgeon which its natural habitat is in the Caspian Sea particularly the regions that appears less polluted.
Almas is a Persian word which signifies "diamond" refer to its price that is almost as high as that of the precious gemstone and its appearance looks like unpolished Diamond.
Description
The fish:
The wild ones can be found in the Caspian Sea . The species normally mature in the 15th ~ 20th year , and can live up to 100 years and reach over 1000kg. The scientific name is Huso Huso .this precious species is the biggest sturgeon.
The caviar:
It is produced from roes of mature beluga of over 15 years of aquaculture . This caviar is very rare case and color of caviar is Albino .
The roes are smooth and even ,with a special shine .Its diameter is over 2.9 mm . It has a full-bodied flavor with a special aromatic after taste .
The labeling includes to indicate the Net weight, logo of company and date of production. Expiry date depends on additives added to Caviar.
Almas Caviar Features:
The Extreme rarity of Almas Caviar comes from its high quality taste, color and its scarcity.
The roes are opaque and range from milky yellow, golden yellow to light gray. The lightest Almas grains are, the most precious is Almas Caviar
How to use Almas Caviar:
It is suggested that serve Almas Caviar in your favorite dishes and enjoy the most divine beauty of Caspian Sea in a relaxed ambience to virtual experience of the calmness and glorious of oceans.
Storage of Almas Caviar:
During packaging, storage and retail the product temperature should be between +2 and +4. Freezing as well as frozen storage of caviar is not permitted. In general, Caviar lasts 5 days after being opened in refrigerator.
Almas Caviar Packaging:
Almas Caviar in Saaee Aquaculture( AbziGostaran Saaee) Collection is packed in suitable food-grade containers. And is presented in 30, 50, 125 and 250 gram tins and glass jars for retail market. Belgian glass jars (50 gram) are also available. Containers are sealed under vacuum to keep them safe. For Export is used 500 gr ,1 kg and 2 kg P.P (Original).