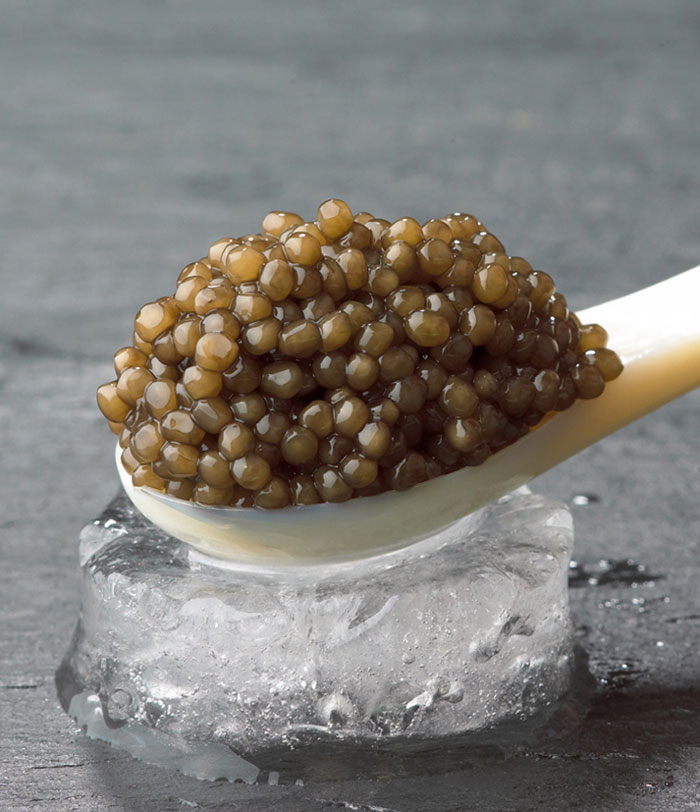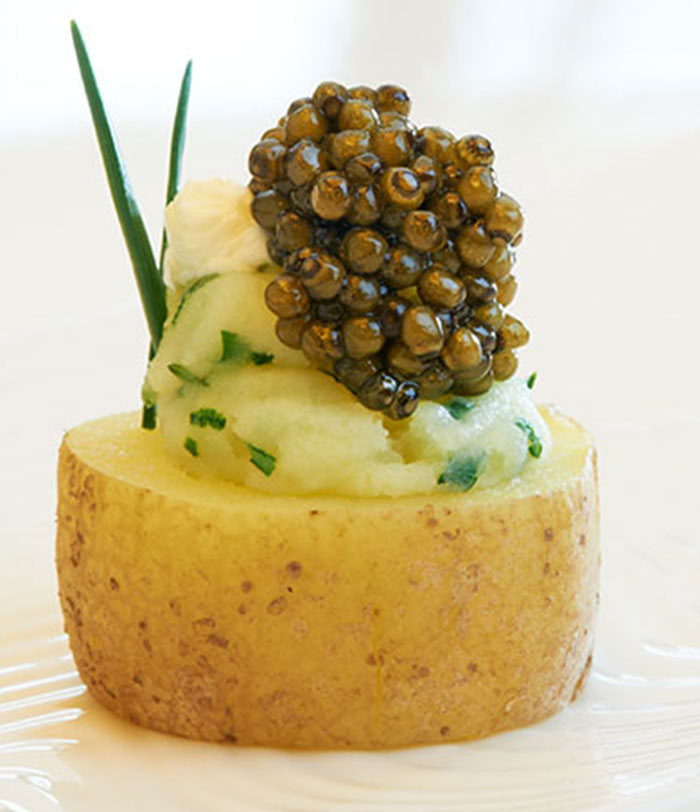 Ossetra caviar.
Osetra is another cherished caviar after Beluga in the world that is harvested from the Persian Sturgeon (Acipenser Persicus) and the Russian sturgeon (Acipenser gueldenstaedtii).
Osetra Caviar is native to the Caspian Sea, and to a lesser extent found in the Black Sea, the Sea of Azov,and including their river basins.
Osetra has medium-sized eggs that often vary in color, flavor, and texture. They typically range from olive green to dark brown, sometimes with an appealing golden hue. Their texture is firm, while the flavor is usually briny, buttery, and distinctively nutty. Osetra is not as creamy as Beluga in texture.
Description
The fish:
The wild ones can be found in the Caspian .The Species normally matures in the 10th ~11th year and can live up to 50 years and reach over 20kg. We catch this species caviar from two kind of fish. They called in scientific name are Acipenser persicus and Acipenser gueldenstaedtii.
The caviar:
It is produced from roes of mature Iranian sturgeon and Russian sturgeon of over 8 years of aquaculture.
Its color can be brown with background of olivaceous or in the rare cases is golden.
The roe diameter is over 2.8 mm . The roes are firm and will burst with pressure in the mouth.
It has a light aroma of nuts.
Type of Osetra caviar:
Common Osetra Caviar
Size: 2.6-2.8 mm
Imperial Osetra Caviar(IOC):
Size:2.8-3 mm
Imperial Selection Osetra Caviar (ISOC):
Size: above 3
Caviar is graded by color, and larger and lighter eggs are considered of better quality. Osetra caviar can be enjoyed on its own, but it also works well when served with creamy sauces, seafood.
Packaging and Storage
Caviar is very fragile and requires very careful handling. Both very high and very low temperature affect the nature flavor and texture stability of Caviar. Therefore, storage and packaging are of special importance.
Desjardian supplies the biggest name in the caviar industry. Desjardian and glass tins are both safe for protecting caviar.